Jim Silvester turns 99 years young this April 7, 2022.
"I just love life.
It's been a good life.
You talk positively.  Got to think positively.
If you want to get anywhere, you got to keep moving.
Coming into the finishing line.  I was very proud to be part of that."
                                                                                         Jim Silvester
Over the last 4 ½ years that I've been a part of Ceevacs, I have met some very interesting folks. One of the interesting and oldest folks just happens to be Ceevacs member, Jim Silvester. His daughter, Brenda Niziol, my friend and occasional run companion suggested I meet Jim at Brenda's trailer at the Osborne Bay Resort in Crofton on May 09, 2021. It was a beautiful day and Jim had just come back from a walk on the Crofton Sea Walk feeling high. Here's a glimpse into Jim's very active life, how he came to be a Ceevacs member and has walked and participated in walk events over the last 5 years.
"I was born on April 07, 1923, in Winnipeg, Manitoba and turned 98 years old this year. I joined the Navy at the age of 16, at the outbreak of the war, on November 6, 1939. I was classed as a Canadian Boys Seamen because I was underage. My first draft was in Halifax where I took a gunnery course and they shipped me to the West Coast. I got assigned to a Corvette, named after a town on the mainland of BC, called the Quesnel. I spent 2 years 11 months aboard her. We did a lot of work on the West Coast. During the war, when Canada started running convoys on the East Coast, more escorts were needed, so five Corvettes from British Columbia, including the Quesnel, went through the Panama Canal to Halifax. Right off the bat, we were running convoys across the ocean. I took part in the Battle of the Atlantic, protecting convoys carrying food and supplies like lumber."
"I've travelled completely around the world by water. It wasn't a cruise ship, either. When you are in the middle of the Atlantic and a big storm hit, the waves come over the sides and freeze on the deck. The ship is completely covered with ice. The guns, boats and the life rafts; everything is frozen. We had to get out and grab anything we could, to get rid of all that weight. If the ship was too heavy, it would end up top heavy, roll at an angle a couple times and then you wondered, "Is she going to come back up?" We had quite a few of those rolls at a bad angle. Not pleasant."
"I've been active my whole life. You had to be active all the time. Sometimes, when you were at sea, if your duty was 4 hours on and 4 hours off, you were always on lookout. We'd be sailing along, with men stationed on deck in various positions with binoculars, looking out for submarines. When we were off lookout duty, we would be in our mess playing cards, trying to be as mentally and physically active as possible or catching a little shut eye." "When I look back on my life, I remember when I was in Montreal, waiting to pick up a different ship, and my buddy and I went ashore. There was a lot of activity and dance halls and such.

For some unknown reason I asked this girl to dance, and we clicked, just like that… Our ship was putting on a display. I asked if she'd like to see that, and she said yes! So, I took her there, then back home, I gave her a kiss. Goodnight. From there on that was it! It just worked out. We just clicked; right there. We just knew. Gwen and I got married on June 29, 1946."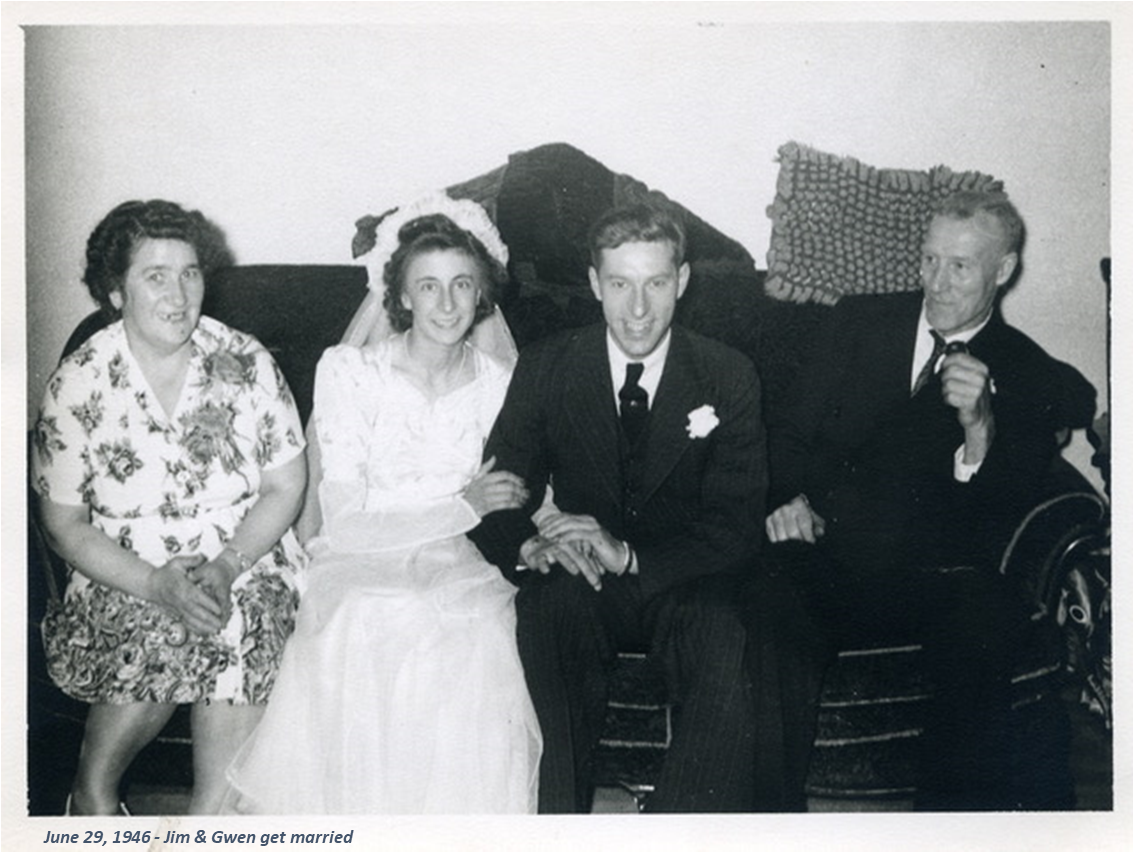 "After I got out of the Navy, I ended up working as Service Manager for a typewriter company in a township outside of Montreal. After 6 years there, I said, I've had enough this stuff, I'm going back to Winnipeg where I was born and raised."
"When I got back to Winnipeg, I spent 10 years as a part-time instructor with the Naval Reserve. At the same time, I had a job with the Great West Insurance Company looking after over 1000 machines in 3 buildings. I was forever hopping around from this building to that building. I'd come and go pretty well as I wanted. There were 5 floors, and I never took the elevator. I always went up and down the stairs. During my lunch hour, I'd go for a walk around the Parliament buildings where the Red and Assiniboine Rivers met. I spent 28 years there and they came along one day and said, "Anybody who has spent 25 years or more, can retire." I said, "Where do I sign?"
Jim's daughter, Brenda, is a Ceevacs member herself, wrote that after her dad retired, her parents spent several years as snowbirds, living in Winnipeg for six months and Texas for six months. Then in 1992, they moved to Duncan to be near their family and grandchildren.
"In 2006, I had the esophagal cancer and had a stay in the hospital. It was detected in time and removed but it took a few months to recover, but then I was back at it again. Gwen and I were living in a mobile home at the time. Then, I lost my wife of 62 years in 2008." Brenda says "It took the wind out of dad's sails. It took him a bit to recover from that. Losing the love of your life; that can do it for anyone." Brenda and Joe renovated their home and made a suite for Jim in 2013. "I've lived in my suite in Brenda and Joe's home ever since. That's where I spend my day doing crafts and going bowling three times a week."

"In November 2014, I suffered a stroke." Brenda reflected, "Being as strong as he was, he came back quickly." "I was impressed with Brenda's accomplishments running and keeping fit and she thought I might like to try walking in a race. She signed me up for the Navy 5k Run in 2015 with my nephew and his wife, and of course, Joe and Brenda. We were called the "UP SPIRITS" team and I was given a special recognition honor and a gold medal for my age achievement. "He was "gung-ho" from that day on" wrote Brenda. Jim reflects, "I've been in Navy races, starting off with the Esquimalt 5K race; up one hill and half-way down and up and down again and again! It was full of hills! Not only that but I have been in many parades, always at the very front, and always carrying the White ensign with two petty officers, one on either side carrying rifles. The Chief Petty Officer was in behind and he always carried the saber. We lead all the parades walking many miles at a time. I just loved it, getting out front, proud as heck".
"I enjoyed that first race and kept up the workouts. In 2016 and 2017, I participated in the VIRA series, Bazan Bay 5k race (with Sheron Chrysler), the Oceanside 5k and the Navy race with Joe. My family, bowling and naval friends were amazed. As my age was rising, my determination got stronger. Like many racers, I like to push myself. But I was not happy with some of my times. Brenda reminded me, "You are not 16 anymore."
"I remember the day, that I broke my ankle because it was November 11, 2017, at home. I let my little dog Mia, out the back door and she got up and got wrapped around some bushes in the back and right from the steps, there is a little bit of a hill. As I moved to help Mia, I turned around and the next thing I knew, I was down. I had to crawl all the way back up the stairs, yelling for Brenda and Joe. After two operations and three pins later, I had an air boot for quite a while and used a knee walker scooter from a friend from Ceevacs. I zipped around the house like a hot rodder!"

"A broken ankle didn't stop me. In 2018, I could be found on Monday evenings, walking around the Sportsplex track with the Ceevacs Run/Walk Clinic. As I began to get stronger, I was still not myself and was frustrated. I signed up for Bazan Bay. Sheron was my walking buddy again. It was my 95th birthday a few days before and all of the Ceevacs joined in at the finish line to cheer me on and walk me to the finish line." Brenda was in awe of her wonderful running club that they would do that for her dad. "Dad had the biggest smile. Not bad for a guy recovering from a broken ankle only 5 months earlier."

After that race, I traveled with Brenda and Joe, for almost two months, through 9 provinces in Canada and 24 states visiting nieces, nephews and 2 out of 3 of my naval buddies that I'd known for 75 years.

2019… was my biggest busiest year, yet. I started with the Ceevacs Clinic in February, entered the Bazan Bay 5k in April, once again with Sheron, as my walking partner. I loved the attention. I would tell her stories of my past to keep myself distracted. I finished, receiving a gold medal for 95-99 age category. May was the Oceanside 5k and I received a special 96ish award from the Oceanside club. Thanks to Jill Davies for making me feel honored. On May 20, I walked in the Douglas Mile and received a special honor from Cathy Noel for my age achievement. In June, I received another special honor from the Rear Admiral for "Most Experienced Runner"
in the Navy 5K.

"I completed the 5k in the Cowichan Autumn Classic in October and I got a gold medal. I was happy, although I had trouble walking on the terrain. But I did it! I ended the year continuing in my role as Santa at the halfway mark for the Ceevacs Predicted Run in December."
This year (2021) started out great for me, joining the Ceevacs Run/Walk clinic. When Covid happened, I could no longer participate in the clinic but knew "Turning 98 will be the first challenge! Like many people, I continued to have an active life walking in the Marshmellow Virtual 5k and Navy Virtual 5k and completed not just one but three 5ks in one week on the treadmill! Later, in June 2020, I had my teeth done… 7 teeth removed and replaced with dentures, and I still have the uppers and a nice smile."
When I met Jim at the resort on May 09, I was shocked to see him using a walker. "What happened to you, Jim?" Jim explained, "I was getting cleaned up and ready to head for bed and suddenly, I did a little split, tried to walk, turned around a little too fast and my knee gave way. Oh, I just hurt myself. I could not get up. Brenda and Joe got me into the bedroom. They found out I was not moving like I should, so called the ambulance, and at the hospital, they did an x-ray and told me I broke my hip. Now as I'm recovering from my broken hip, I do regular exercises for my upper body. I do have pain and every night I go to bed, and I take a couple of Tylenol that helps me sleep. I get up in the morning and I'm able to dress myself, put on my shoes and get up for breakfast. I'm ok now and I wait to start walking with Brenda.
It has been since the end of March that I've had aches and pains and forever taking pills. Pain killers. I am finally getting my mobility. From there, I have to keep working and getting around slowly. I have walked with my walker to the end of Crofton Sea Walk and back. I've got to take my time. I have no worries. I've got experience! I know it's going to be a little while yet."
"My life has been sort of up and down, but I've enjoyed every minute of it since I retired. Brenda and Joe have looked after mom and me. So, there was the Navy, Winnipeg, and living in Shawnigan Lake. With Brenda signing me up with the Ceevacs, VIRA, Navy and the Oceanside races over the last 5 years, I've walked the 5K and won 7 medals. I've had no competition!"

"Brenda worries about me and is always after me saying, "Come on dad, you can do this." I've got a treadmill, and stationary bike. I do my exercises and I got the weights. Sometimes, we go to the gym and Joe is always there. The physiotherapist tells me different movements I've got to make but I do get very impatient. Brenda says I am not going to walk like yesterday. She says I've got to take my time and I will build up again. I am about to throw out the walker and be back to walking on my own again. So, I am quite content. I think for my age, I am doing pretty well, same as the ankle did. It just aches now and then. It will take a while."

Post from Lynn Carroll – Vancouver Island Representative at Quilts of Valour – Canada 98 1/2-Year-Old James Silvester today Dec. 4th received his Quilt of Valour at the Royal Canadian Legion Malahat Br. 134 Shawnigan Lake, BC. YSAG Legion Quilter Fran Whitfield maker of Jim's Glorious and Free quilt help wrap him up in the Hugs from a Grateful Nation while his daughter Brenda Niziol and friends looked on.
Jim served in the Royal Canadian Navy (1939-1946) from the time he was 16 starting on the HMCS Malaspina in 1941 as an Able Seaman. He ranked up to Leading Seaman aboard the HMCS Quesnel which took part in convoys during WWII and the Battle of Atlantic. He was a Gunner on that ship, and they would have to deploy depth charges when they heard the sonic echoes of the submerged German subs. He was given an Honourable release as Petty Officer and presented with 1939-1945 Star, Atlantic Star, Canadian Volunteer Service Medal and Clasp, War Medal and Canadian Forces Decoration. He became a Naval Reserve Officer in Winnipeg after his time was over.
He has many, many, stories of his time in the Navy and was Proud to have Served his Country!
Sir, Thank You so very much for your Service to Canada.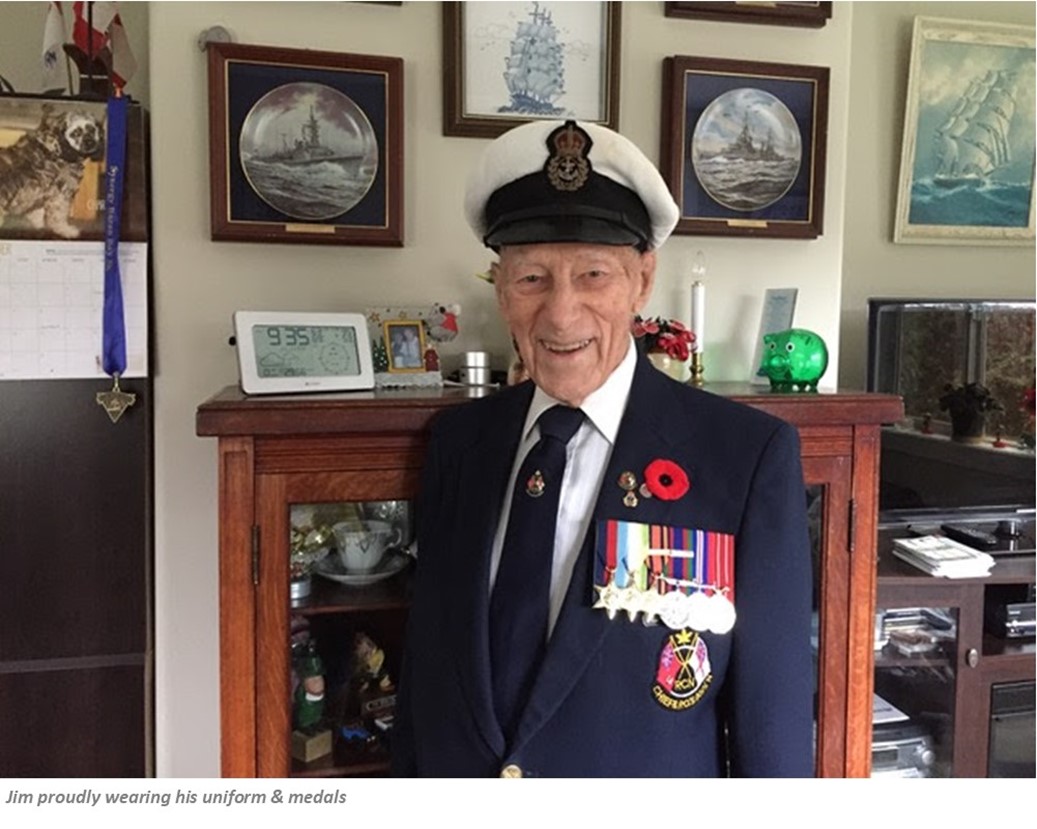 "There's only one thing I can say to other Ceevacs members.
You've got to keep on going.
You can't stop. You MUST keep on going.
People have asked me
"How come you are doing so well?"
"I'm not sitting on my butt watching tv all day long.
I'm up and trying to get around.
I'm walking, doing my exercises.
I want to build myself up so I can do the 5k again. So, keep on moving."
Thank you, Jim, for sharing your story.
Ellen Candlish
Jim Silvester – Race Records
Bazan 5k – photo courtesy of Lois DeEll
• June 2015 Navy 5k Run "UP SPIRITS" 1:01:46 Special recognition honor and gold medal for my age achievement.
• January 2016 VIRA Bazan Bay 5k 59:28 Gold medal in age category 90-95.
• May 2016 Oceanside 5k 58:05 Gold medal. They don't give medals for the 5K category, but I got a Gold as a souvineer.
• June 2016 Navy Run 58:36.
• January 2017 Best time yet in Bazan Bay 5k. 57:12 and 94 years old!
• June 2017 Navy 5k Run 1:02:23 Bronze medal in 77-99 age category.
• 2018 VIRA Bazan Bay 1:14:07 Gold medal and standing ovation
• January 2019 Bazan Bay 5k 1:04:24, Gold medal for 95-99 age category.
• May,2019 Oceanside 5k 1:02:04 Special 96ish award from the Oceanside club. Thanks to Jill Davies for making me feel honored.
• May 20, 2019, Walked the Douglas Mile in 18:46 Special honor from Cathy Noel for my age achievement.
• June 2019 Navy 5K 1:02. I received another very special honor from the Rear Admiral which was "Most Experienced Runner".
• October 2019 Cowichan Autumn Classic 5k 1:13:46. Gold medal and I was happy, but I had trouble walking on the terrain. But I still did it!!
*Special thanks to Jim's daughter, Brenda Niziol for her input.